IMPORTANT DATES
Builder: Newport News Shipbuilding and Drydock Co.; Newport News, VA
Keel Laid: 7/31/61
Launched: 8/4/62, sponsored by Mrs. Roswell L. Gilpatric, wife of the Deputy Secretary of Defense
Commissioned: 12/7/63, with Cdr William H. Sandeford (Blue), Cdr Warren R. Cobean, Jr. (Gold) in command
First Missile Firing: 2/17/64
Decommissioned and struck from the Navy List: 9/25/90, 26.8 years old
Disposed of through SRP at PSNS, Bremerton, WA: 10JAN95, after 31.1 years.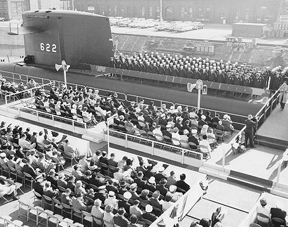 FACTS
"LAFAYETTE" 616 Class SSBN
Displacement: 7325 tons (surfaced), 8251 tons (submerged)
Length: 425′ Beam: 33′
Speed: 16k (surfaced), 21k (submerged)
Test Depth: 1300′
Tubes: 16 missile tubes and four 21″ torpedo tubes (forward)
Crew: 14 officers – 126 enlisted men (each of 2 crews)
Power Plant: S5W nuclear reactorTwo geared steam turbines, 15,000 SHP, one shaft
Armament:
Missiles: 16 tubes for Polaris or Poseidon
Polaris A2 (1964-1969)
Polaris A3 (1969-1975)
Poseidon C3 (1977-1990)
Torpedos: four 21″ Torpedo Tubes (All Forward)
MK 14/16 Anti-ship Torpedo
MK 37 Anti-Submarine Torpedo
MK 45 ASTOR Nuclear Torpedo
MK 48 Anti-Submarine Torpedo.
HISTORY
USS James Monroe SSBN 622, the fifteenth Fleet Ballistic Missile submarine to join the active fleet, is named for the fifth president of the United States and the author of the Monroe Doctrine, which guaranteed the integrity of the American colonies against further colonization by European powers. After President James Monroe has set forth the principles in the Monroe Doctrine he adopted a policy of "Watchful Waiting". Considering the tasks and missions assigned the USS James Monroe, the officers and crew have adopted these words as the ship's motto. It was the first Lafayette Class SSBN built at Newport News Shipyard and Dry Dock Company.
After commissioning, a shakedown cruise was conducted in the British West Indies, Fort Lauderdale, and Cape Kennedy. Following shakedown off Cape Kennedy, Florida, the USS James Monroe (SSBN-622) spent the early months of 1964 in ballistic missile tests. The first missile firing took place on Feb. 17, 1964 and Blue and Gold crews launched A-2 Polaris Missiles. She departed from Charleston, SC with 16 Polaris A-2 missiles for her first patrol on 1 June 1964, emphasizing the expanded peacekeeping role of Polaris submarines. It is fitting that a submarine named for President Monroe belong to a modern United States peacekeeping force since his famous Monroe Doctrine is one of the cornerstones of American freedom. "The American continents …" he warned, "are henceforth not to be considered as subjects for future colonization by any European power." Her ability to remain on patrol station is limited only by the amount of food carried and the mental and physical endurance of her crew. Both crews were homeported and conducted offcrews in Charleston, South Carolina and operated from Rota, Spain under Submarine Squadron Sixteen.
On 1 June 1965, James Monroe was transferred to Submarine Squadron Fourteen based in Holy Loch, Scotland. On 17 January 1967 the USS James Monroe completed her 12th deterrent patrol and operated from both of the European Polaris replenishment anchorages as part of Submarine Squadron 14 in Holy Loch, Scotland and as part of Submarine Squardon 16 in Rota, Spain; maintaining her creed and motto of "Watchful Waiting." The boat completed 16 A-2 Polaris deterrent patrols before starting her first overhaul at Charleston Naval Shipyard.
The USS James Monroe on 9 January 1968 became the first submarine with POLARIS A-2's to enter overhaul and to receive POLARIS A3 capability. While in overhaul the boat's S5W reactor was refueled, the strategic weapons system was converted to the A-3 Polaris Missiles, and the navigation and the solar systems were updated. The overhaul was completed in September 1969 followed by a shakedown cruise to the Caribbean. Both crews successfully completed launchings of Polaris A-3 missiles off Cape Kennedy, Florida. Following overhaul, post overhaul shakedown, missile test firings in late 1969, USS James Monroe departed overhaul on 31 December 1969 after a short refit in Charleston and headed for her new homeport of Pearl Harbor, Hawaii via the Panama Canal. On 24 January 1970 the boat left Pearl Harbor to begin deterrent patrols from her operational homeport at the Polaris Fleet Ballistic Missile Submarine Refit Site III site at Polaris Point in Apra Harbor, Guam as part of Submarine Squadron 15 in the U.S. Pacific Fleet . On 3 March 1970 the Monroe deployed for her second on-line patrol cycle with 16 A-3 Polaris missiles and was awarded the Meritorious Unit Commendation as a member of Submarine Squadron Fifteen duirng the period of July 1968 through October 1971. In December, 1971 the USS Hunley (AS 19) relieved the USS Proteus (AS 31) at Apra Harbor, Guam. The USS Hunley serviced the boats of SUBRON 15 until January, 1973, when relieved by the USS Proteus returning from overhaul. On 22 August 1972, the USS James Monroe and her crew received a second Meritorous Unit Commendation for consistently exhibiting outstanding readiness to perform her assigned strategic deterrent mission. This was demonstrated by exceptional performance in comprehensive inspections, completion of five uniformly outstanding Polaris deterrent patrols, and fleet-wide recognition for achieving career motivation excellence during the period 2 October 1970 to 31 December 1971.
The USS James Monroe made 19 strategic deterrent patrols in the Pacific Fleet from Guam (35 total patrols) before returning to Pearl Harbor for crew consolidation and transiting to Newport News in October, 1974 to commence her second overhaul, nuclear refueling and conversion to Poseidon C-3 capability. In November 1974 James Monroe departed the Pacific Fleet and on 10 January 1975 she commenced second and last overhaul and conversion at Newport News Shipbuilding and Drydock Company. While in Overhaul, the strategic weapons and navigation systems were converted to carry the new, longer range, more accurate Poseidon C-3 Missile, the reactor was refueled and modified to the new, longer life S3G core 3, and the boat received numerous survivability alterations.
After completing her second overhaul on 14 May 1977 the USS James Monroe the Blue Crew successfully launched a Poseidon C-3 missile on 3 August 1977 as part of the ship's Demonstration and Shakedown operation in the Caribbean. On 14 December 1977 the USS James Monroe deployed for operational patrol following Poseidon conversion. At this time she was based in Charleston, SC and operated from Holy Loch, Scotland under Submarine Squadron Fourteen. Patrol 39 ended in Rota, Spain under Submarine Squadron Sixteen. On July 2, 1979, the commander of Submarine Squadron 16 greeted the submarine tender USS Simon Lake (AS 33) when it arrived at Kings Bay, Georgia, the new homeport of the squadron. Four days later ( 6 July 1979 ), the USS James Monroe entered Kings Bay, having departed from the former tender site at Rota, Spain, and moored alongside the USS Simon Lake's starboard side to begin a routine refit in preparation of another deterrent patrol. Kings Bay has been an operating submarine base since that day. In October 1979 James Monroe returned to Holy Loch, Scotland and Submarine Squadron Fourteen.
In order to extend the overhaul cycle to twelve years, James Monroe conducted three extended refits (9/81, 4/84, and 5/87) to perform critical repairs and preventative maintenance.
For fiscal years 1981, 1982, and 1983, USS James Monroe was awarded the Battle E ( Battle Effectiveness Award ) for three years in a row while assigned to Submarine Squadron 14 in Holy Loch, Scotland. On 28 July 1983 the Blue Crew of the USS James Monroe successfully launched four Poseidon C-3 missiles during a Follow-on Operational Test. In July 1985 USS James Monroe successfully completed her 65th deterrent patrol. On 12 September 1987 the Gold Crew of the USS James Monroe successfully launched four Poseidon C-3 missiles during the 59th Poseidon Follow-On Operational Test.
Patrol 77 began in Holy Loch and ended in Charleston, SC. The final crew combination occurred on 17 May 1989. Following Patrol 78, a strategic offload, and local operations James Monroe departed Charleston for Bangor, Washington and the Pacific Fleet. James Monroe passed through the Panama Canal, made a side trip to the equator, and made a port visit to San Diego on this last underway.
Over a span of 26 years, James Monroe conducted 78 strategic deterrent patrols (nearly 15 years submerged), steamed in excess of 750,000 miles, and maintained an operational tempo of 70%. During her lifetime she was manned by approximately 2600 dedicated men and received the following awards: Two Meritorious Unit Commendations, US Atlantic Fleet Ballistic Missile Outstanding Performance Award, Three Battle "E" Awards, Two ASW "A" Awards, Three Engineering "E" Awards, Two Damage Control "DC" Awards, Communications Green "E" Award, Three Supply Blue "E" Awards, Squadron Best Mess Afloat, Medical Yellow "M" Award.
The USS James Monroe was deactivated on 14 October 1989. On 5 February 1990 SSBN 622 began dismantlement as one of three ships scheduled for this in FY90 and was decommissioned and struck from the Navy List on 25 September 1990. She was disposed of through the SRP at Puget Sound Naval Shipyard in Bremerton. WA on 10 January 1995. As part of the disposal process the sealed reactor compartment was shipped by barge out of Puget Sound Naval Base down the coast and along the Columbia River to the port of Benton. There the radioactively contaminated hull section was transferred to special multi-wheeled high load trailers for transport to the Hanford Reseration in Washinton State and remains in a special burial ground for spent fuel of nuclear submarines.