Dick Reuss organized another reunion in Myrtle Beach, SC in October, 2005. The weather was a bit rainy but the turnout was excellent. Forty nine members which added up to over 80 total attendees.
The following story, titled "Sub veterans meet in Myrtle Beach" appeared in the local newspaper after our October, 2005 reunion held in Myrtle Beach, SC.
"Members of the USS James Monroe Association and their spouses gathered for their biannual reunion in October at the Poindexter Oceanfront Resort. Of the 111 association members, 49 from across the U.S. attended the gathering.
The nuclear-powered submarine was commissioned in 1963, decommissioned in 1990 and had three operating bases: Holy Loch, Scotland; Rota, Spain; and Guam. According to its Web site, the association "is dedicated to the brave men who, during the Cold War, served their nation in Silent Service. The Silent Service refers to the servicemen who served beneath the seas in an intense and successful effort to deter the use of nuclear weapons in times of crises past."
Attendees enjoyed seeing old friends and reminiscing about old times. "Being in the Navy was the best thing to ever happen to me, except for marrying my wife, Darlene," said Dick Reuss. "It turned me around.""
– By Tory Tall, for The Sun News (c) 2005 The Sun News and wire service sources. All Rights Reserved.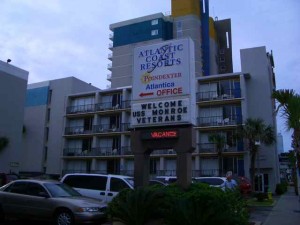 The Reunion Was Held At The Poindexter Resort Again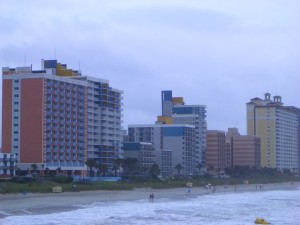 The Beach At Myrtle Beach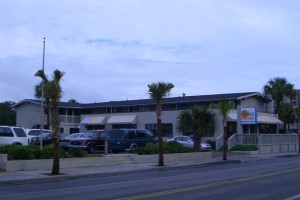 The Restaurant Where People Gathered For Meals And The Hospitality Room Was Located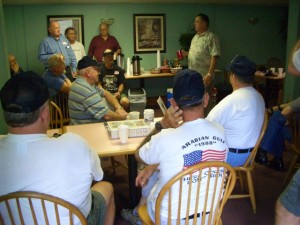 USS James Monroe Association Business Meeting In 2005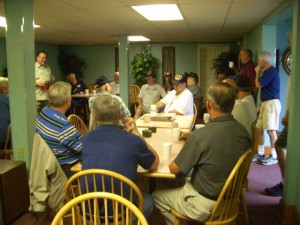 Discussing USS James Monroe Business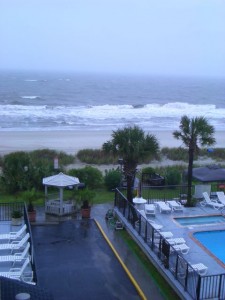 The Weather In Myrtle Beach Wasn't The Best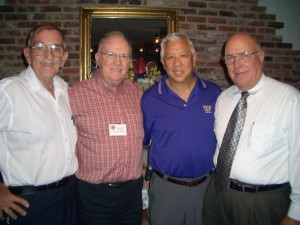 Jim Keller, Charlie Cross, Ken Shang, Jim Powell At The Dinner
Group Photos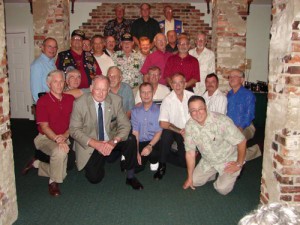 Blue Crew
Top Row Left to Right: Larry Hook, James Lilley and Manly Hudson
Second Row Left to Right: Bill Garrison, A. J. Murphy, Don Patrick, Joe Gall, Roger Christensen, Bob Miller, Bill Dean, Wade Tomberlin, Wayne Earl, Phil Wagner, partial head unknown and Dick Schuch
Third Row Left to Right: Larry Hart, Bill Kriehn, Jim Douchet, John Donaldson, Joe Walker, Bill Evermon, Jim Keller, Harold Starn, Bob McCoy, and John Martin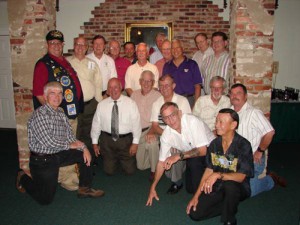 Top Row Left to Right: A. J. Murphy, Paul Nelson, Bob Hartwein, Wade Tomberlin, Mike Williams, Rick McMahill, Bill Christesen, Charlie Cross, Ken Shang, Dick Reuss and Larry Rosselot
Middle Row Left to Right: Bill Kriehn, JC Powell, Pat Inman, Bill Evermon, Dick Schuch and Jerry Starn
Bottom Row Left to Right: Jim Keller and Eusebio Bonifacio