At the 1999 Reunion in Poulsbo, the USS James Monroe Association members voted to donate $1000 for the construction of Deterrent Park, the submarine memorial located at the Submarine Group Nine campus at the Naval Submarine Base Bangor near Silverdale, WA ( now called Naval Base Kitsap – Bangor ). Below is an article from the base newspaper documenting the donation. There are also pictures of the plaque that commemorates the JMA donation at the Commodore level and pictures of some of the bricks that have been purchased by former USS James Monroe crew members.
The park features a full-size replica of a SSBN topside and utilizes the actual sail and upper rudder of the USS Woodrow Wilson, a former Fleet Ballistic Missile Submarine. Deterrent Park on Subase Bangor is a new effort to commemorate the 41 for Freedom boats. The SSBN missile deck will be formed by with commemorative / memorial bricks purchased by interested parties. Dedicated in April 2000 to coincide with the 100th anniversary of the U.S. Submarine Fleet, the park offers a place of learning, quiet contemplation and a natural location for honoring our shipmates on distinguished occasions such as retirements, re-enlistments and memorials. Deterrent Park was a gift to the Navy to honor all submariners on the 100th Anniversary of the Submarine Force in April 2000 from the Pacific Northwest Submarine Heritage Association. Naval Base Kitsap is responsible for the maintenance of the park and keeps the submarine replica and surrounding grounds in top ceremonial condition.
Commemorative / memorial bricks engraved with an engraved message are still being sold to ensure operational availability of Deterrent Park. Typical messages can be name, rate/rank, dates served, date qualified, or boats served on, in memory (Deceased Shipmates), or any other message that meets the decorum of the site. If you are a member of an organization or ship's crew, you can specify that your brick be placed by those with whom you served. You will receive a certificate verifying the message to be engraved and a chart showing approximate location of your brick. Each brick is $40.00, which includes all engraving costs. You may purchase as many bricks as you wish. Once purchased, bricks become park property. Click here for the link for more information about purchasing commemorative bricks at Deterrent Park or you contact Wayne Sieckowski via the Contact Us page on our website. The submarine veterans of the USSVI Bremerton Base are responsible for the marketing and sale of the bricks.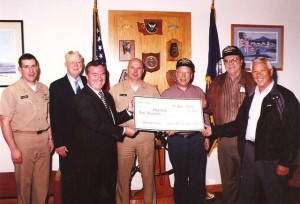 Nick Schneider, Wayne Sieckowski And Ken Shang Presenting Check From The JMA To PNSHA For The Construction of Deterrent Park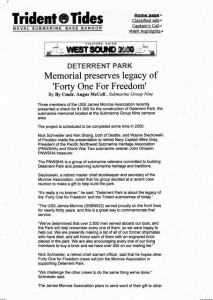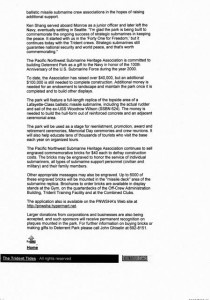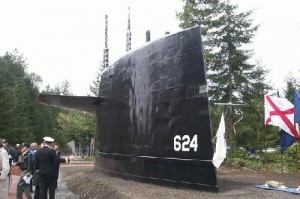 The Sail Of The USS Woodrow Wilson On Deterrent Park's Dedication Day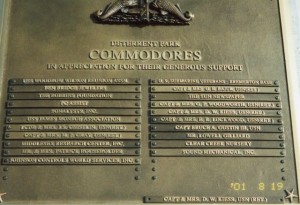 Plaque Showing the USS James Monroe Association's Donation At The Commodore Level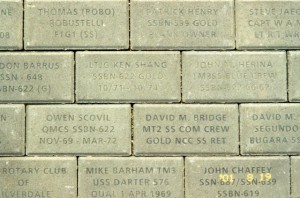 USS James Monroe Crew Member Bricks At Deterrent Park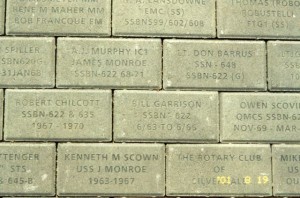 Additional USS James Monroe Crew Member Bricks At Deterrent Park