USS James Monroe Association Newsletter – March 2011
Website up and running
The year started off the right way for the USS James Monroe Association. The good news is that the association's website has been redone and expanded and is up and running. Existing association members should be able to login using the username and password they were issued in the past. If you don't remember your username, please contact us and we will send it to you. There is a process to allow you to reset your password if you have forgotten that. Just follow the instructions on the website. Let us know if you have problems with this and we can help you. The personal information on the Sailing List will only available to members. The guestbook is working and open to everyone, so please leave a message for your shipmates. A special thanks to Ken Shang and Bill at BSgraphics.net for all the work they did to redo the website. Please visit the website at www.ussjamesmonroeassn.org and pass its address on the other crew members
Newsletter
This newsletter is being sent to everyone to encourage reunion attendance. In the future it will be send primarily via email except to those members who have requested a hard copy. Non members will have to view the newsletter on the website. This newsletter will be only as good as you make it. Pleae send in stories and information. Articles / information can be sent to ssbn622assn@yahoo.com or mailed to: Wayne Sieckowski, 3932 Colonial Lane SE, Port Orchard, WA 98366.
Next reunion Y"all Come Now
The 2011 reunion has been scheduled for June 20-24, 2011 in Charleston, SC. We have a contract in place with the Best Western in Charleston – Downtown. Walt Spiller, Billy Graham and Wayne Sieckowski are the committee for the reunion. The reunion was moved to the June time frame, to allow members who have school age children the opportunity to attend. Details for the reunion and the Plan of the week are enclosed.
A block of rooms has been reserved for the attendees at a daily room of $74.99 plus tax for Sunday through Thursday nights. To stay additional days, the rate Friday through Sunday will be $99.99 plus tax. To make reservations call the numbers below and ask for Reservations and tell them you want to make a Group Reservation for the USS James Monroe Reunion in June 2011. Fifty rooms are being hold for us until May 20, 2011. Any of these rooms are not reserved by May 20 will be released and available to the public. Half of these rooms have already been reserved so don't wait too long to make your reservation.
Best Western Plus Charleston – Downtown
146 Lockwood Drive (Blvd)
Charleston, SC 29403-5123
Phone: 843-722-4000
Toll Free: 888-377-2121
Fax: 843-805-8086
www.CharlestonBestWestern.com
Database Update
We ask that all members review your data on the sailing list to ensure it is correct. If you received this newsletter by snail mail, we have your corrected mailing address. Please send corrections to the secretary at ssbn622assn@yahoo.com.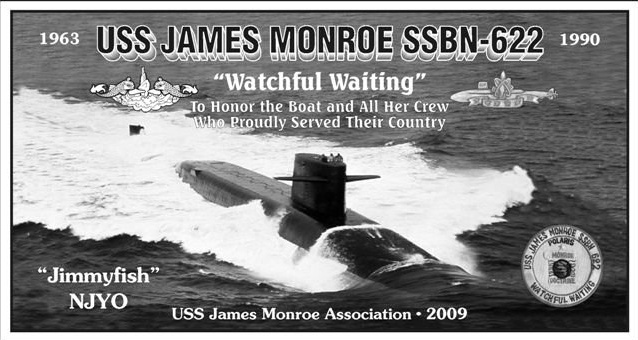 A picture of the USS James Monroe plaque on the Commemorative Plaque Wall at the Navy Memorial in Washington D.C. This plaque was funded through the JMA
Eternal Patrol
Here are adds since the last newsletter of shipmates on eternal patrol.:
Conrad Blanc, Dan Bulick, Conrad Craraj, Joe Donnelly, John Gerbitz, Patrick Keefe, Richard Lavery, Herbert Leonard, Charles Lyman, Robert Schuelke, and George Wells.
A complete list of shipmates on Eternal Patrol can be found on the website: www.ussjamesmonroeassn.org
Membership Dues
Please send your dues to Larry Hook orWayne Sieckowski. Dues $15.00 yearly$150.00 Lifetime. Anyone who has paiddues at the Sept 2009 Reunion and afterwill be paid up until the Charleston Reunion in June 2011. After that annual members dues will come due annually in June.
Ballistic Missile Submarine Exhibit Unveiled At Keyport
By Chantel M. Clayton, Navy News, January 11, 2010
KEYPORT, Wash. — A new exhibit was unveiled in commemoration of the 50th anniversary of the commissioning of the first ballistic missile submarine during a small ceremony held at the Naval Undersea Warfare Museum in Keyport, Wash., Jan. 8.
"This exhibit, titled 'Forty-One for Freedom,' honors the submarines and submariners who have kept the peace during the Cold War," said William Galvani, museum director.
"The submarine George Washington (SSBN 598) was the first of the 41 freedom submarines. It was commissioned in 1959, and shortly thereafter the United States built 40 similar submarines. These submarines were the backbone of strategic deterrence for the United States. They made sure our country was safe."
According to Galvani, when the exhibit was created, he wanted people to know how the program was originated, what the submarines were like, and how many submarines there were.
Rear Adm. Frank Caldwell, commander, Submarine Group 9, gave remarks on the submarine's history and the significance this class of submarine had on the country.
"To the submarine force, the George Washington meant a new mission," said Caldwell. "To the American people, it meant peace and security and ultimately contributed to the end of the Cold War."
Among the people who attended the ceremony were crew members of the George Washington.
"Serving on board the George Washington was definitely one of the best experiences of my life," said former Radioman 2nd Class Rich Jacobson, who served aboard George Washington from 1976-1979. "The camaraderie you experience on board a boat is a unique and different experience. There was definitely sense of mission, and there was a deep feeling of pride among the crew, and we were doing something that was extremely valuable to the country. Everyone took their job seriously."
Jacobson said he felt the exhibit was a way to pay tribute to those who have served while giving them the recognition they deserve.
"There are so many people that have served over the years on this particular boat. Maybe they didn't get a lot of recognition, and this is an opportunity for us to really think about the people who have made those sacrifices to serve their country," said Jacobson. "To me, it's a great reminder of the value of our mission and an opportunity for us to show special appreciation for all of those who have served."
The exhibit features photographs of the "Forty-One for Freedom" submarines, the ships' crests, and the history of USS George Washington.
7-8-2010 USSVI OFFICIAL BUSINESS: SubVet News – #2010-025
NEWS-01: The USS James Monroe Association donates to the Subvet Scholarship Fund Submitted by: Pat Householder on 6/30/2010?——————-On behalf of all our USSVI submariner brothers, we thank the USS James Monroe Association membership for the $ 1,000.00 contribution made to the US Submarine Veterans Charitable Foundation Scholarship Fund. Our Scholarship Fund supports the children and grand-children of our USSVI shipmates and I am proud and appreciative of the USS James Monroe Association's support of our children and their future.
This donation was voted in the Branson reunion but only presented this year.
One of God's Better Inventions
You remember them: those ton and a half monsters that took the annual
production of thirty-five sheep to make. Those thick black rascals with
black plastic buttons the size of poker chips. The issue coats that
drove shore patrol duty chief petty officers stark raving nuts if they caught you with the collar turned up or your hands in your pockets.
Didn't they issue you black leather gloves?" So, you took your hands
out of your pockets and risked digital frostbite rather than face
whatever the Navy had in store for violators of the 'No Damn Hands In
Peacoat Pockets' policy. There's probably a special barracks in Hell
full of old E-3s caught hitchhiking in sub-zero weather with hands in
peacoat pockets.
.
In the days long ago, a Navy specification peacoat weighed about the same as a flat carload of cinder blocks. When it rained, it absorbed
water until your spine warped, your shins cracked and your ankles split.
Five minutes standing in the rain waiting on a bus and you felt like
you were piggy-backing the Statue of Liberty. When a peacoat got wet, it smelled a lot like sheep dip. It had that wet wool smell, times three.
It weighed three and a half tons and smelled like 'Mary had a little
lamb's gym shorts.
You know how heavy a late '50s pea coat was? Well, they had little metal chains sewn in the back of the collar to hang them up by. Like diluted Navy coffee, sexual sensitivity instruction, comfortable air-conditioned bungalows, patent leather plastic-looking shoes and wearing white hats configured to look like bidets, the peacoat specification has been watered down to the point you could hang them up with dental floss. In
the old days, pea coat buttons and grocery cart wheels were interchangeable. The gear issued by the U.S. Navy was tough as hell,
bluejacket-tested clothing with the durability of rhino hide and
construction equipment tires. Peacoats came with wide, heavy collars. In a cold, hard wind, you could turn that wide collar up to cover your neck and it was like poking your head in a tank turret.
Peacoats — one of God's better inventions
Welcome Aboard Shipmates!
We have built a new website to recover from some of the security related problems that occurred in the previous one. In addition, we want to provide more information and pictures about the JMA and the 622. We plan to continue improving the website and using it as a place for news and information for the members. Please take a look at the website, provide us comments and pictures or information to improve it. Also please let us know if you have a new or different email so we can keep you informed.
The Reunion Agenda is enclosed in this newsletter. We have reserved the Cold War Memorial at Patriots Point for a Memorial Service for 1030 on 21 June 2011 followed by lunch on th e Yorktown.
Since our last newsletter in 2009 and the release of our new website, we have heard from a number of crewmembers and have continued to received dues from old and new members. Please keep this up and help us make the JMA even stronger. We hope to have strong attendance at the reunion in Charleston and plan to make it fun for everyone. We still want to attract new members, especially those who are younger and from later year that the Monroe was in service. We also want information to fill in the history for the later years of the Monroe's service.
If you know of any crewmembers who are not in our database, please encourage them to contact us with their information or let us know so we can follow up. Our association can only be as strong as the members we have. I hope to see you in Charleston.
The 1Q 2010 Newsletter is being created and should be published before the end of the quarter.